Annual Benefit Letter Campaign November
Every November we mail letters to residents in the community, asking for financial support to sustain our meal service program.  The letter explains that donations allow us to charge a reasonable price for clients' meals although those fees do not cover the costs we incur.  Donations help us with monthly expenses such as food and food containers.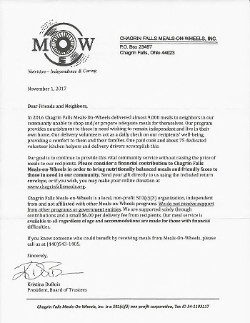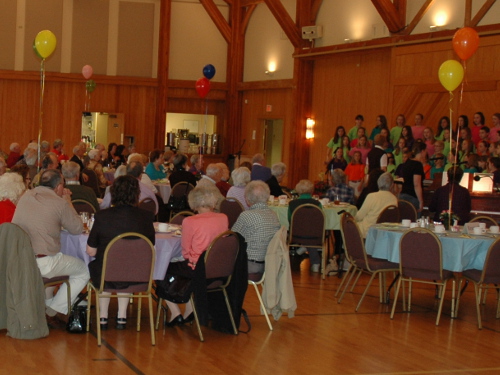 Annual Appreciation Luncheon
Every May, the Meals-On-Wheels Board of Trustees hosts a luncheon to recognize the service of our many volunteers. It is a festive event to show appreciation to seventy regular and substitute drivers/deliverers, and about thirty kitchen volunteers who regularly donate their time and effort to our program.
The catered luncheon is well-received with up to one hundred persons attending, including many clients who enjoy socializing with the volunteers. We arrange for our drivers to chauffeur recipients without rides to and from the luncheon. Entertainment is provided by the students from Chagrin Falls Intermediate School Music Program, much to the delight of everyone. Meals-On-Wheels could not exist without the service and dedication of the many volunteers who make a difference in the lives of our recipients. We are pleased to honor them during this annual luncheon.